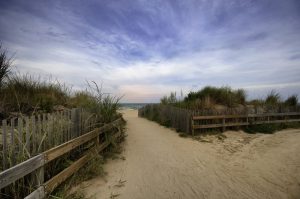 Did you know that the fall in Ocean City, MD, is known to locals as the second season? With good weather, fun events, hotel deals, and less traffic, there are many reasons why this is the best time to visit Ocean City, MD!
When planning your fall getaway, book your stay with the best Ocean City oceanfront hotels at one of our Boardwalk Hotel Group locations. Get great rates, and exclusive packages, while creating long-lasting memories with your family!
Reasons to Book a Fall Getaway in OCMD
Fewer Crowds
This time of year, kids return to school, and people wind down from summer mode, but the fun doesn't stop in Ocean City, MD! Take advantage of the fall happenings and book your stay late in the summer to skip the lines and crowds. Visitors can find parking spots available close to the boardwalk and beach. Enjoy extra space on the beach and no lines waiting for snacks like boardwalk fries!
Enjoy the Beach
The swim season in Ocean City lasts for longer than you might think! Beachgoers can enjoy a dip in the ocean through the end of October without too much of a chill since average ocean temperatures stay in the mid-70s. 
Fun Events
Local events are happening almost every weekend through the fall! Bring your family for the weekend or meet up with friends for the festivities. There's something for everyone to enjoy! Check out more information about annual events like Endless Summer Cruisin, Harbor Day at the Docks, and Sunfest.
Hotel Deals
When you book with Boardwalk Hotel Group, our guests can take advantage of Fall Meal Deals from September through November. Come experience the best food and hotel accommodations our beach town has to offer!
Golf Experiences
Fall is the perfect weather to tee off at a local golf course. Ocean City, MD has 17 championship courses for golfers to enjoy. Are you looking for a great place to golf? Try the premier course, Eagles Landing, Rum Pointe, and Ocean Resorts Golf Club. Just west of Ocean City, find Glen Riddle Golf Club and the Ocean Pines Golf and Country Club. Boardwalk Hotel Group also offers golf vacation packages for you to book your ideal vacation!
Local Farms and Farmers Markets
The Eastern Shore is known for its produce and artisans; check out a local farmers market like the one year-round in Ocean Pines. Shop goodies from local farms, craft vendors, and more. 
Make sure to plan a weekend getaway this fall, the best time to visit Ocean City, MD! There are so many reasons to visit in the off-season, from fewer crowds, warm ocean water, fun fall events, hotel deals, and more. Stay oceanfront with Boardwalk Hotel Group at the Days Inn or Howard Johnson hotels.