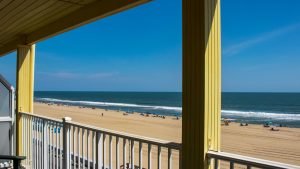 Ready to brush off the winter blues and book your next Ocean City, MD 2020 Vacation? The chilly weather might stick around for the next couple of months, but that doesn't mean you can't start looking forward to summer early. In fact, at the Boardwalk Hotel Group, we believe that winter is actually the best time to book your summer vacation!
The Boardwalk Hotel Group offers guests an Early Bird Special that saves you 20% off weekdays, and 10% off weekends when booking a vacation before April 15. With this promotion, guests also receive everyone's favorite boardwalk bite, a free large bucket of Thrasher's french fries! 
Check out five other great reasons that you should start your summer vacation planning now! 
5 Reasons to Book your Vacation Now
Start Saving –

When you plan your vacation in advance, you have a clearer picture of what everything will cost, so you can plan accordingly and set aside your funds now. While there are plenty of

free family-fun

activities in Ocean City, you just might want to swap out your daily latte for a beach-front cocktail in just a few short months! 

More Options –

The best hotels always book up fast! If you have a particular hotel in mind, the sooner you can book it, the better chance you will have of being able to stay during the time that you want. Oceanfront hotels, just like the Days Inn Oceanfront, are usually the first to get booked up during the summer season, so take advantage of our Early Bird special and book now. 

Easy Coordination –

Coordinating everyone's schedules becomes that much easier when you book your vacation early. Be sure that you get house-sitters as well as time off work, so you can stress less and enjoy your vacation more! 

Make a Packing List –

Having a packing list makes getting all of your items into your suitcase seamless, and reduces the time spent getting everything together. Creating an early list can help you to not forget things when you take your vacation, reducing your stress and giving you more time to get your car road-trip ready! 

It's FUN! –

There's nothing like planning a summer beach getaway to beat the winter blues. Deciding on what all of your friends and family want to do, and discussing your upcoming trip, is all apar of the anticipation and fun! Do you want to cool off at

Splash Mountain

? Or perhaps spend an evening at the

Pier

playing the games and riding fun and exciting rides? Get planning now because Ocean City is jam-packed with fun activities for the entire family! 
Pro Tip: Did you know that the Days Inn Oceanfront is pet-friendly? From October through April your furry friend has full reign to splash in the waves and play in the sand but finding a hotel that will accommodate the entire family can be difficult. The Days Inn Oceanfront is one of the only remaining Ocean City hotels that allows you to bring your pooch on vacation with you! Leave the stress of finding someone to watch your four-legged friend behind, and allow your dog to have some fun in the sun with their best friend, you! Find our detailed pet policy here. 
Booking your Ocean City vacation early offers you greater security, saves you money, and makes the entire experience more enjoyable! To book your 2020 vacation, call 800-926-1122 today!