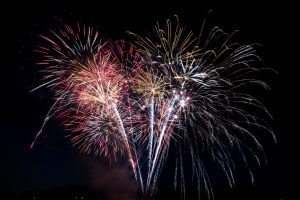 The 4th of July weekend in OCMD is just around the corner! If you're looking for a memorable way to celebrate look no further than staying at the Boardwalk Hotel Group in Ocean City, Maryland. With stunning beachside views, a vibrant boardwalk, and exciting events, Ocean City offers a unique and unforgettable experience for visitors during the holiday weekend.
Fireworks Extravaganza
What's the 4th of July weekend at the beach without a spectacular fireworks display? Head over to North Division Street Beach on the 4th of July, to witness the fireworks show illuminating the night sky. Start off the night at 6:30 pm with live music at the Caroline St. Stage from the U.S. Army Band Downrange, and DJ Kutt. The fireworks are set to begin at 9:30 pm.
You can also head uptown for fireworks at Northside Park on 125th Street. Bring a beach chair or blanket and arrive early to secure your spot. Enjoy music from DJ Knappy and Gizmo from
8-9:30 pm, then watch the firework display!
Fun on the Boardwalk
Visit Jolly Roger at the Pier and enjoy classic amusement rides for all ages, including the iconic Giant Wheel. Then, stop by Thrasher's French Fries for the best fries in the world! The lively atmosphere and cheerful crowds add to the holiday spirit, making it a perfect place to celebrate.
Oceanfront Accommodations
To fully immerse yourself in the 4th of July weekend, relax at one of our oceanfront hotels in Ocean City! Book your stay at a Boardwalk Hotel Group hotel for stunning views of the beach and convenient access to all the exciting events happening!
The best part about booking at a Boardwalk Hotel Group hotel during the 4th of July weekend? You don't need to beat the traffic, or crowds, to get the perfect view! The beach is right out your front door. Enjoy the firework display on the 4th, extend your vacation a night, and add July 5th to your stay for a discounted rate. Plus, get a FREE Large Bucket of Thrasher's Fries AND a $50 meal voucher!
For an unforgettable 4th of July celebration, Ocean City, Maryland, is the perfect destination! Immerse yourself in the patriotic spirit, bask in the beachside beauty, and create lasting memories in this vibrant beach town. Ocean City promises an Independence Day celebration you won't soon forget.
Rooms are going fast so hurry and book direct to save at a Boardwalk Hotel Group hotel! We can't wait to see you!