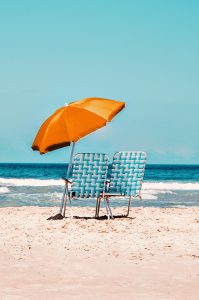 Are you ready to celebrate spring break in Ocean City, Maryland? We know we are here at the Boardwalk Hotel Group hotels! We can't wait to tell you about all of the ways to celebrate spring break in OCMD, but first, we have an important question – why would anyone wait until the summer to start vacationing?!  
The weather is getting warm and the beach is calling your name! Don't wait until the middle of summer to book your much needed vacay. Check out some of our favorite spring break activities in Ocean City and book your oceanfront visit today!
Top 5 Spring Break Activities in Ocean City
Sometimes you don't realize how much you miss the beach until you get a chance to take a nice leisurely stroll on the sand. Whether you're alone or with friends, running or walking, morning or evening, the salty air and soothing waves will wipe away those winter blues!
Ocean City's favorite amusements are opening the first weekend of April! Buy your passes and spend some time on the classic rides, playing the assortment of games, and of course, taking the year's first ride on the iconic Giant Wheel. And don't forget – Thrasher's French Fries is right next door for a delicious bite to eat!
Speaking of delicious bites to eat… Ocean City local restaurants don't disappoint! The assortment of food up and down the boardwalk alone will leave you struggling to pick just one place to go. But don't worry, remember there are three meals a day and plenty of time to try it all next time too! Explore local restaurants here!
Embrace the peace and quiet of the offseason
Ah yes – the off-season, a peaceful time to enjoy the beach and boardwalk without worrying about getting caught up in the summer rush. Especially when you stay at Boardwalk Hotel Group, your oceanfront view and access to the beach will feel that much more special.
While the water might still be on the colder side, there's plenty of fun to have ON the water! With the ocean, bay, and rivers around the eastern shore, there's an abundance of spots to kayak, paddleboard, jet ski, surf, sail – the possibilities are endless! Find more things to do on the water here.
So, what are you waiting for? Book your beach vacation and plan your spring break escape to Ocean City, Maryland today. Call 800-926-1122, we can't wait to see you!