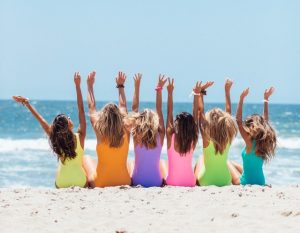 Sometimes you need a good girls' weekend with friends to get away from it all and we have the perfect place for you to escape! Ocean City, MD, and the Boardwalk Hotel Group have everything you and your gals need to have the most relaxing, fun, or exciting weekend possible. 
Whether you're looking for some excitement during the dreary months of winter or looking to embark on a spring or summer getaway, there's plenty to experience any month of the year in our beach town. Book your stay at one of our Boardwalk Hotels for the perfect accommodations to enjoy during your vacation!
Things to Do on a Girl's Trip in OCMD
Dining
Dine-in style at Ocean City favorites on the bay like Ropewalk and Seacrets for delicious cocktails and seafood options. There are also upscale farm-to-table restaurants like Liquid Assets that will give you the opportunity to post a beautiful charcuterie board on social media and try some of the best food in town. Of course, you can't forget about brunch! Bad Monkey is the spot to be for their famous monkey bread, orange crushes, and other breakfast and lunch favorites.
Shopping
Go for a shopping spree at the Ocean City Outlets for all of your favorite name brands at great prices. Then, browse the local boutiques like Ragamuffin and Patty Jean's Boutique for unique clothing items, knick-knacks, and perfect gift items to bring home to those who didn't make the trip. 
Spas
Treat yourself with a massage, facial, mani-pedi, or even hair and makeup options at A Perfect Face Day Spa in Ocean City, or book a reservation at the award-winning Creative Day Spa that's been in town since 1985!
Beach
A trip to Ocean City isn't complete without time spent on the beach! Luckily for you, any Boardwalk Hotel you choose is oceanfront with the best views and convenient access to the Boardwalk and beach. Make sure you catch a sunrise over the ocean whether it's from the comfort of your oceanfront room or out on the sand!
Hotel Group Rates
If you don't want to bother with planning the details of your trip, let the professionals help! For groups, our dedicated Group Sales staff is always on hand to assist with every detail in planning your getaway. From creating custom tour packages to planning delicious meal events, we make sure your vacation runs like clockwork! Find more information here.
Don't wait! Book the vacation you deserve and have a blast with your friends at our Boardwalk Hotel Group locations. Our oceanfront, quality accommodations will have you planning your next trip before this one is over! Contact the Boardwalk Hotel Group today.