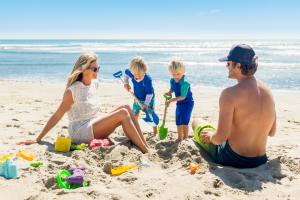 As August comes to a close, book your last-minute vacation to Ocean City, MD, and soak up all the days of summer we have left. With Boardwalk Hotel Group, you have three top-rated boardwalk hotels to choose from, all close by to the best attractions in town, and only a few steps away from the beach.
There's no need for summer to be over yet. There's still plenty of time for fun in our beach town AND there's now a new way for you to save when you book at our hotels! Check it out below and call us at Boardwalk Hotel Group with any questions.
Wyndham Hotel Rewards
Do you love staying with Boardwalk Hotel Group when you come to Ocean City, MD? Well, you can also enjoy similar top-rated Wyndham hotels for all of your travels! 
How It Works
When you book your beach vacation with us, you earn points. These points can then be used to redeem awesome perks like free nights, online shopping, food delivery, and more. There are thousands of Wyndham hotels, vacation club resorts, and rentals around the world for you to explore and tons of ways to redeem your points. Check out some of our redemption options:
The go free award lets you redeem your Wyndham Rewards points for a free night's stay at one of our participating hotels. You will need 7,500-30,000 points for a hotel stay or 15,000-30,000 per room at participating club resorts or vacation rentals. The go free stays can be booked here.
Use your Wyndham Rewards points to get a discounted night using 1,500, 3,000, or 6,000 points per room. You'll continue to earn points for every dollar spent on your stay. Book your go fast stays here.
Looking for a simple way to earn points? With the go get 'em awards, you'll earn 10 points per $1 or 1,000 points, for each qualified stay. Find more information on qualified stays here.
Earn Wyndham Reward Points and use them for shopping, activities, and more! Whether you're vacationing or at home, you can use them for online purchases, gas discounts, things to do, and so much more. Check it out here.
What are you waiting for? Book your Ocean City, MD stay with Boardwalk Hotel Group to enjoy the rest of summer and start earning Wyndham Reward Points!