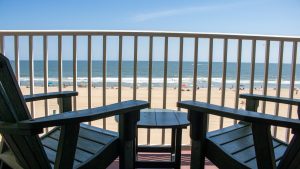 Are you planning a summer vacation to Ocean City, Maryland? With miles of beaches, an exciting boardwalk, and endless entertainment options, it's no wonder so many people flock to our favorite coastal town every year.
If you're planning a summer vacation to Ocean City, Maryland, we've put together a helpful checklist to make sure you don't miss any of the fun stuff!
First things first, let's find you a cozy place to stay. Check out Boardwalk Hotel Group hotels for a great selection of beachfront properties and hotels with ocean views. Book your weekday stay to save big and find the perfect vacation package for you! 
Now, onto the fun stuff! Ocean City is famous for its beautiful beaches, so don't forget to pack your swimsuit and sunscreen. Spend some time soaking up the sun, playing in the waves, and trying out fun beach activities like paddleboarding, kayaking, and even parasailing up in the air! 
One of the most iconic attractions in Ocean City is the boardwalk. It's a must-see! And luckily for you, when you book your stay at a Boardwalk Hotel Group hotel, you're right there at the heart of it all! Take a leisurely stroll down the boardwalk, check out the arcade games, and grab some delicious Thrasher's French Fries or ice cream.
For a thrill, head to Jolly Roger Amusement Park for exciting rides, games, and attractions for all ages. Jolly Roger at the Pier is located right on the boardwalk, equipt with some seriously exciting rides and attractions, including the Slingshot, which shoots you 180 feet into the air, and the iconic Giant Wheel. 
For more laid-back activities, go fishing! Ocean City is known for its excellent fishing opportunities. Book a charter boat and try your luck at catching some of the area's prized fish, such as marlin, tuna, and mahi-mahi.
And last but not least, make sure to explore the surrounding area. Assateague Island National Seashore is nearby, where you can see wild ponies, and the historic town of Berlin offers charming shops and restaurants.
We hope this checklist helps you plan a fantastic vacation in Ocean City, Maryland. Don't forget to pack your sense of adventure and get ready to have some serious fun in the sun!
Book direct to save at a Boardwalk Hotel Group hotel, we can't wait to see you!