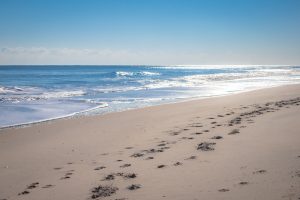 Kick-off summer the right way with a trip to Ocean City, MD! Boardwalk Hotel Group has this Ocean City vacation guide to help you plan the best trip possible. Whether you're bringing the whole family, traveling with friends, or taking a solo trip, we have the perfect accommodations and a list of attractions you don't want to miss.
Book your stay with Boardwalk Hotel Group today and start counting down the days until you're in our favorite beach town!
Must-See Attractions
Jolly Roger's Giant Wheel
Jolly Roger at the Pier is well known for its Giant Wheel overlooking Ocean City and the beach. Go for a ride to catch the sunset over the bay and get the best views of the town. 
Looking for the BEST Boardwalk snack? Thrasher's French Fries is famous for its delicious boardwalk fries that can be topped with old bay and vinegar. We guarantee it'll be the best french fry you've ever tasted!
All of our Boardwalk Hotel Group locations have awesome amenities including pools for you to lounge beside or go for a swim. 
If you're a golf lover, you don't want to miss out on visiting some of the exquisite golf courses nearby our hotels. Check out golf specials for your trip!
Beach Must-Haves
If you're spending time in the sun make sure to bring your sunscreen and reapply throughout the day! Other sun protection is just as important like hats, sunglasses, and long-sleeved shirts to keep yourself from too much sun exposure.
Whether you're going for a swim or just sitting on the sand, you'll want to bring a towel to dry off and sit on. The sand can get hot to the touch and sitting on it is not always comfortable. Plus, it can double as a blanket if you get chilly.
It's important to drink plenty of water when you're spending the day at the beach. The sun and tumbling waves can tire you out easily. Snacks are also a good idea to keep your energy up and keep you feeling good to spend a couple of hours on the sand.
Pack Your Favorite Book or Game 
We could spend all day sitting on the sand just staring at the waves but if that doesn't sound entertaining to you, bring something you'll enjoy. This can be your favorite book to read, a frisbee, football, spike ball, etc.
However you plan on spending your vacation, stay with us at one of our Boardwalk Hotels. For more information and vacation guides to Ocean City, MD, visit our Boardwalk Buzz!