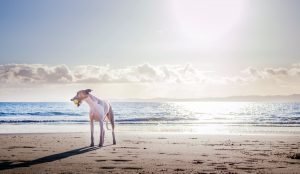 Are you planning a pet-friendly Ocean City beach vacation? If spending time with your pup is one of your favorite activities, then you're in good company. No one likes to leave man's best friend at home while they go on vacation, and when you book with a Boardwalk Hotel Group hotel, you don't have to! Book your beach vacation at the Days Inn Oceanfront or Howard Johnson Oceanfront Inn for pet-friendly accommodations all season long.
The Days Inn Oceanfront and Howard Johnson Oceanfront Inn are some of the only remaining Ocean City hotels that allow you to bring your pooch on vacation with you. Leave the stress of finding someone to watch your pup behind. Bring your pooch to have fun in the sun with you, and book one of our award-winning hotels. At the Boardwalk Hotel Group, we love our pets, which is why we rounded up the best places to take your dog in OCMD to earn some extra tail wags and puppy kisses.
Ocean City Beach and Boardwalk
Now is the best time to bring your pooch to Ocean City, Maryland. While the boardwalk and beach are closed to animals during the summer season, pets are allowed from October 1st until April 30th! Allow your pups to roam the sand and waves, or take a walk down the boardwalk without the crowds, and take advantage of the off-season months.
Book your beach vacation with our Early Bird Special at any of our Boardwalk Hotel Group hotels, and save big on all reservations made by April 15, 2020. When you book your stay with our Early Bird Specials, you receive 20% off weekday stays, 10% off weekends, as well as a free large bucket of Thrasher's French Fries.
Locals Tip: Homer Gudelsky Park (locally known as Stinky Beach) is a small beach just outside of Ocean City that's open to your pets any time of the year! It's located on the west side of the bay, just south of the Rt. 50 Bridge. Take Old Bridge Road to the very end and enjoy a beach day with your favorite pet!
Northside Park and the Dog Playground
Take your pet to Northside Park, Ocean City's hidden gem filled with walking trails and a playground for the kids. Your pet can enjoy a brisk jog or an evening stroll by the bay. While there's only one 'official' dog park in Ocean City, Northside Park is often referred to as the "Doggie Park" of North Ocean City by locals!
The Dog Playground on 94th St. is also a convenient place to take your pups year-round in Ocean City, Maryland. The Dog Playground has two sections, one for dogs over 28 pounds, and another for dogs under 28 pounds. In order for your pooch to play at the Dog Playground, you must register your dogs through the Ocean City Recreation and Parks Department to receive your application and passes.
Booking your Ocean City vacation early offers you greater security, saves you money, and makes the entire experience more enjoyable! To book your 2020 vacation, call 800-926-1122 today!