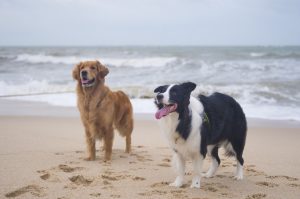 Looking for pet-friendly hotels in Ocean City, MD? Boardwalk Hotel Group knows how special it is to include the whole family when you're on vacation and this includes your pup! The Days Inn Oceanfront Hotel is the perfect place for your beach getaway. 
With pet-friendly accommodations all season long, leave the stress of leaving your pet behind and plan Ocean City adventures you can do together. If you're wondering what there is to do with your dog in town, you're in luck because our Boardwalk Hotel Group vacation specialists have the inside scoop!
Things to Do With Your Dog in OCMD
Walk the Beach & Boardwalk
Ocean City is great all year round but your pup will especially love it when they are allowed to join you on the beach and boardwalk! Pets are permitted in these areas from October 1st until April 30th. Take advantage of the off-season without the crowds and let your furry friend enjoy the waves and the sand.
Local Parks
Besides the beach, there's plenty of other spots you and your pet will love. Northside Park in North Ocean City has gorgeous views of the bay with piers, walking trails, sports fields, and more to explore. Assateague Island permits pets year-round for your water bugs to soak up the sunshine and salty water. Homer Gudelsky Park – lovingly referred to as Stinky Beach by locals – is on the west side of the bay just outside Ocean City and is always welcome for pets to have a beach day! 
Pet-Friendly Places to Eat
Many of your favorite Ocean City spots to eat are also pet-friendly! Grabbing breakfast at Malia's Cafe, drinks at Micky Fins Bar & Grill, or dinner at De Lazy Lizard, your dog can join you at the outdoor seating. Beautiful views, good food and drinks, AND time with your pet? What could be better than that?
What are you waiting for? Book your pet-friendly beach trip today until October 17th at the Days Inn Oceanfront Hotel and check out our exclusive Fall Meal Deal for savings! Contact Boardwalk Hotel Group for more information and fun things to do around town.