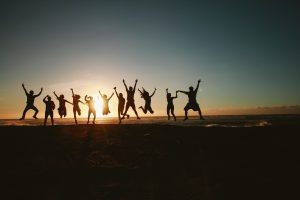 The weather's getting warmer and the days are getting longer. You know what that means—spring is almost here! Spend your spring break in Ocean City, MD, and stay with Boardwalk Hotel Group hotels. You don't have to wait until summer to start planning your ideal vacation. The weather here in the spring is plenty warm! Boardwalk Hotel Group is here to tell you about all the fun spring activities going on around town. 
2023 Spring Break Activities in OCMD
Go to the Boardwalk
Is it really a beach trip if you don't visit the boardwalk at least once? Ocean City's famous boardwalk has tons to do, from riding the rides at Jolly Roger Amusement Parks to going shopping, and grabbing a bite to eat at Thrasher's French Fries! The boardwalk is the best place to hang out and go for a walk. So much fun that you may end up spending all day there! 
Go to the Beach 
This is probably the number one thing to do on your list and we can't blame you! Ocean City is full of beaches that are flooded with visitors during the summer. Coming to the beach during spring helps you beat the crowds and get your tan on first! Be sure to wear your sunscreen and be prepared for a long day in the sun and sand. Remember to leave only your footprints when visiting, as we like to keep our beaches safe and clean! 
Restaurants and Nightlife
Ocean City, MD has a variety of options for you to choose from when it comes to dining! Enjoy local restaurants in the area with fine dining options, quick bites to eat, all-you-can-eat seafood joints, farm-to-table style, and so much more to choose from. The boardwalk is packed with food options but don't be too overwhelmed. There are three meals in a day which means there is plenty of time for you to dig in and try it all. As for nightlife, Ocean City knows how to have a good time! Most bars and pubs stay open until 2 AM so you and your crew can hit the town and dance all night long. Check out all the local dining options here! 
Water Sports
We know it won't be as hot as summer but the weather will still be warm enough for you to splash around in the water! Ocean City has the bay, ocean, and rivers that surround the Eastern Shore for you to kayak, paddleboard, jet ski, surf, and sail on. There are so many things to do on the water, so be sure to make it part of your spring vacation! 
Book your vacation with the many great hotels from Boardwalk Hotel Group and start planning your spring break today! We can't wait to see you and your crew.