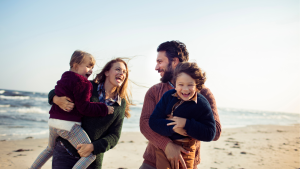 Create new memories and plan a Thanksgiving vacation in OCMD! Relax, slow down, and experience a different season of beach life when you spend a long weekend in Ocean City for the Thanksgiving holiday.
Start a new holiday tradition with your family and stay at the Howard Johnson® By Wyndham Oceanfront Plaza Hotel. There's nothing better than cozying up with loved ones in your oceanfront hotel room overlooking the ocean. Plus, you can take advantage of the Boardwalk Hotel Group's Winterfest Package with deals to make your holiday weekend in Ocean City, MD special! Book your trip with Boardwalk Hotel Group today!
Things to Do for Thanksgiving in Ocean City, MD
There are many things to do for Thanksgiving in Ocean City, MD. Our oceanfront location lets you enjoy the outdoors, shop, and visit local events and festivals, all within a few miles of your hotel room.
Get Outside
Get some fresh air and walk off the turkey on the boardwalk. From one end to the other is 2.5 miles, and you can stop along the way to look out at the ocean or walk out to the inlet for more stunning views.
The fall and winter months are the best time to visit if you want to have the beach to yourself. It's also a great time to bring the dogs and let them run! Another perk of visiting Ocean City, MD, in the off-season is having a bonfire on the beach. Enjoy the sunset, roast marshmallows, and cozy up with friends and family around the fire.
Shop!
Get some holiday shopping done early this year at one of the many local boutiques and gift shops. OCMD is known for its surf shops, so stop in and get your surfer boy or girl a gift they'll love! Head to the Ocean City Outlets off Route 50 in West Ocean City, where you'll find your favorite brands and home stores with great deals. (If you need a break from shopping, stop at the Flagship Cinemas next to the shops for a matinee!) For a wide selection of gifts, don't miss the 40th Annual Holiday Shoppers Fair! You can find over 120 vendors featuring unique merchandise and handmade products, candles, photography, florals, jewelry, and ceramics.
Attend Events
Walk through Northside Park for a magical night of Christmas light displays like Santa fishing, surfing, and boating at the 40th Annual Winterfest of Lights! On your stroll through the exhibits, visit the Christmas shop, take a photo with Santa and warm up with some hot chocolate. You can also check out the Holiday Model Railroad Display that your kids will love! Bring the family to this fun and festive Winterfest Train Garden Display from November 17 – December 31 at the Convention Center.
Save!
When you visit this holiday season, take advantage of the Boardwalk Hotel Group's Winterfest Package available from November 18 through December 28 with no blackout dates! The package includes a two nights hotel room and tax at Howard Johnson Oceanfront Plaza Hotel, four tickets to Winterfest of Lights, and $80 in meal vouchers. If booked Sunday to Thursday on a weekday, the price is $279, and when booked Friday to Saturday on the weekend, the price is $325. Additional nights are available to add on at a discounted rate.
Spend your Thanksgiving holiday vacation with the Boardwalk Hotel Group and book a room at the Howard Johnson® By Wyndham Oceanfront Plaza Hotel. Our oceanfront rooms offer breathtaking views of the Atlantic Ocean from your private balcony. Staying with us lets you experience a beach vacation any time of year—nothing beats being at the beach!