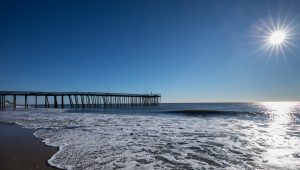 Fall at the beach is underrated! Ocean City, MD, has many things to do in the off-season. The Boardwalk Hotel Group has three of the best award-winning boardwalk hotels in OCMD, including the Howard Johnson by Wyndham Oceanfront Plaza Hotel. 
If you're looking for fall events in OCMD, book your stay today at the Howard Johnson by Wyndham Oceanfront Plaza Hotel. 
Planning a Fall Vacation in OCMD
Experience the best of Ocean City, MD, this fall and holiday season. If you're planning a fall vacation in OCMD, stop by OCtoberfest by Shore Craft Beer Fest or spend the holidays in OCMD and tour the Winterfest of Lights, an iconic and award-winning annual event. 
OCtoberfest
The Shore Craft Brewery hosts this annual event featuring local craft breweries with over thirty types of craft beers to try. Enjoy live music, award-winning food trucks, spectacular bay views, and VIP tickets. A beer festival on the bayside has extra perks allowing guests to experience Ocean City by boat. The OC Bay Hopper will host mini beer cruises throughout the event. Eventgoers can sip their beer while enjoying the natural beauty of the coastal bays. OCtoberfest is a fun-filled event perfect for the whole family, dogs are welcome, and kids under 12 are free!
Winterfest of Lights
Get into the holiday spirit at the 30th Annual Winterfest of Lights. This year the annual festival is returning as a walking holiday event with expanded paved walking paths that wind through Northside Park showing a light display. You can sip hot chocolate, take a photo with Santa, see the 50-foot Christmas tree, visit the gift shop, and browse holiday exhibits. Visit Winterfest of Lights at Northside Park uptown on 125th Street from Wednesday to Sunday evenings, 5:30 – 9:30 pm. Admission is only $6 for guests 12 years and older and free for children 11 years and younger. 
Wyndham Rewards
Book a trip this fall season and take advantage of the Wyndham Rewards program. You'll earn points for every qualified stay at a Wyndham Rewards hotel or vacation club resort. Redeem points through free nights or use them for online shopping. The Wyndham Rewards is one of the best hotel rewards programs. Join today!
This year, experience OCMD in the off-season and enjoy the best fall and holiday events. Don't wait! Choose to stay on the boardwalk with the best accommodations at the Howard Johnson by Wyndham Oceanfront Plaza Hotel. 
We can't wait to celebrate with you!