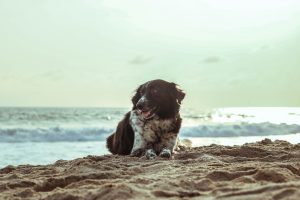 Are you looking for a pet-friendly vacation in Ocean City, Maryland? At the Boardwalk Hotel Group, we have you covered! Now that the cooler weather that fall brings to town is finally upon us, it's the perfect time to pick up your furry friend and hit the sandy road.
At the Boardwalk Hotel Group hotels, we understand that when it comes to you and your dog, you're simply better together. This is why we want to make your beach getaway a fun experience for both you and your pooch. Book your beach vacation to the Days Inn Oceanfront, or Howard Johnson Oceanfront Inn for pet-friendly accommodations all season long!
Ready to have some fun? Check out our list of the top five things to do with your pets on your trip to the beach this off-season!
Top 5 Things to Do With Your Dog
Play Fetch on the Beach
Who doesn't love a game of fetch? From frisbees to tennis balls, all 10-miles of the Ocean City sandy shoreline is yours to explore from October 1st until April 30th! Available for your pup to roam the sand and take a dip in the waves because the water in Ocean City stays warm through the first few weeks of October!
 Pro Tip: Looking for a more private experience? Homer Gudelsky Park (locally known as Stinky Beach), is a small beach just outside of Ocean City, MD that's open to your pets all year long! Located west of the bay, just south of the Rt. 50 Bridge. Take Old Bridge Road to the very end and enjoy some peaceful moments with you and your pup!
Walk the Boardwalk
Similar to the beach, the famed Ocean City Boardwalk is open to dogs beginning October 1st, until April 30th. Get your steps in on the Boardwalk and some exercise in for your dog. Stop along the way to take in the views of the ocean, and be sure to touch both sides of the boards so you know you walked the entire thing!
Northside Park
Do you know about Ocean City's hidden gem, Northside Park? With walking trails and a playground for the kids, take your furry companion for a quick jog or relax with an evening stroll. Northside Park is located beside the water so you can let your pup swim in the bay with easy access in and out, right beside the Pier.
Doggy Playground
The Dog Playground on 94th St. has two sections separating dogs over and under 28 pounds, and is open to pets year-round! You must register your dogs, and applications and passes may be obtained from the Ocean City Recreation and Parks Department front desk!
Grab a Bite to Eat
There are over 45 restaurants in Ocean City, Maryland that you are allowed to bring your furry friend to chow down beside you! There's nothing better than going out to eat with the entire family, and that includes your dogs!
Enjoy a meal at Micky Fins Bar & Grill where your pooch can enjoy a nice bowl of chilled water as you enjoy your meal, or stop by Bayside Skillet for a phenomenal breakfast where your pup's water will be served with your drinks! De Lazy Lizard Bar & Grill, The Hungry Seagull, and Malia's Cafe also allow dogs, just to name a few more!
After a long day of exploring our favorite beach town, where better to rest your heads than at a Boardwalk Hotel Group hotel? Save big on your beach vacation with any of our vacation packages! Our Fall Meal Deal was so good that we've decided to extend the savings! Stay one, two, three, four, or even five nights from October 4 – November 19th. Each extra night you stay the more you receive back in meal vouchers redeemable at various restaurants around town! The Fall Meal Deal package is valid weekdays only, Sunday-Thursday.
Booking your beach getaway early offers you greater security, saves you money, and makes the entire experience more enjoyable! To book your fall 2020 beach vacation today, call 800-926-1122. We can't wait to see you!