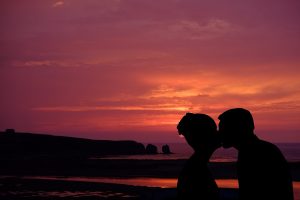 Valentine's Day weekend is coming up and we know you want to make it perfect for that special someone! Nowhere is more romantic than the beach and Boardwalk Hotel Group has everything you need to make this the best romantic getaway in Ocean City, MD. 
Be creative this Valentine's Day and let us help you plan something fun for you and your partner while saving money. At Boardwalk Hotel Group, we offer Valentine's Day deals and packages in Ocean City, MD so you can save while having the sweetest couples getaway. 
OCMD Valentine's Day Package 
The Valentine's Day Package is valid at Howard Johnson By Wyndham Oceanfront Plaza Hotel Ocean City, MD and includes:
Two-Night Stay
This package includes a two-night stay from February 10-12, in a romantic hotel room with a large king bed and private oceanfront balconies to watch the sunrise. The rooms are modern style and give that cozy beach feeling, with everything you need to enjoy your stay.
Best Views in Town
From oceanfront to side-view rooms, no matter which you choose you are guaranteed to have the best views in town. You and your partner are able to enjoy a romantic sunrise right from your balcony or head down to the beach and boardwalk—just a quick walk if you want to get the full experience. The peaceful sound of the waves crashing and the smell of the ocean will have you wanting to sit there all day…and who could blame you?
Romantic Dinner 
When you book using the Valentine's Day Package you'll receive $80 in meal vouchers, perfect for dinner for 2. Book a reservation at the best waterfront restaurants for dinner with a view. Ocean City is known for its fresh seafood dishes while also having numerous farm to table local restaurants. With the highest quality chefs, there's something for everyone to enjoy. If you love birds don't feel like braving the cold and leaving the room, carry-out options are always available! 
Package Extras
This package includes some extra special gifts! The romance starts before you even enter your room. Upon arrival, a bottle of wine and a box of delicious chocolates will be set up for you to indulge in. You can't celebrate Valentine's Day without heart-shaped chocolate—but don't forget to bring flowers!
Impress your valentine this year and plan an unforgettable couples getaway with Boardwalk Hotel Group. With our Valentine's Day Package, you simply choose if you want a side view or an oceanfront room and we will take care of the rest. Book your stay today, we can't wait to see you!