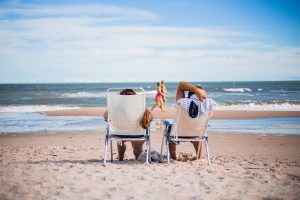 As any local will tell you, visiting Ocean City, Maryland in September is one of the best times to go! At Boardwalk Hotel Group, we know that summer's not over yet and we're still here to give our guests the best beach vacation possible.
For a lot of our guests, it's their favorite month in our resort town and we'll tell you why. Book your stay before it's too late and come see why we love Ocean City in September!
5 Reasons to Visit Ocean City this September
A lot of people think the best time to visit Ocean City, MD is in the middle of summer, like July or August. But when you visit during those months, you're stuck with scorching hot days and a higher chance of thunderstorms that will limit your beach time. In September, the weather is still warm enough to enjoy a beach day without worrying about heatstroke!
No one likes to sit in traffic or wait in line. Coming to Ocean City in the later months gives you more space to enjoy the beach, dine at a restaurant, experience the rides at Jolly Roger Amusement Park, and so much more. 
With the changing of the seasons comes exclusive discounts at Boardwalk Hotel Group hotels! Take advantage of the Fall Meal Deal that's offered on weekday stays starting September 6 and lasting until November 18.
If you came to visit OCMD anytime from May to early August, the weather might've been hot enough for you to jump in the ocean, but the water was probably pretty cold. Another great reason to visit the beach in September is the ocean water temperature. It's perfectly refreshing and won't turn your child's lips blue with the cold!
Some of the best Ocean City events take place during September. The National Folk Festival down the road in Salisbury is an iconic event full of culture and fun entertainment. Then after that, OC Bikefest is in town for bike lovers near and far to experience. End the month with Sunfest's four fun-filled days of arts, crafts, delicious food, hayrides, and more. 
What are you waiting for? Book your September stay now with Boardwalk Hotel Group to enjoy one of the best times of the year to visit Ocean City, MD!