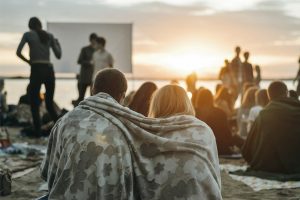 Weekends are overrated. What about weekday stays in Ocean City, Maryland? There's no better time to visit our beach town than a sunny Tuesday afternoon with less crowded beaches and no wait times at restaurants!
With Boardwalk Hotel Group, get exclusive rates and great deals when you book your stay for a weekday getaway. You might be wondering, what is there to do in Ocean City during the week? We have a full itinerary for you!
Summer Weekday Events in OCMD
Monday:
Every Monday throughout the summer enjoy a FREE family-friendly movie night on the beach. Grab a blanket and chairs to cuddle up in the ocean breeze and enjoy your favorite movies.
Join in on the OC Life-Saving Station Museum program for the History of Our Surfman. Learn about the U.S Life Saving Service and the heroic men who rescued ships in distress off the coast of Ocean City.
Tuesday:
Head to the beach with your fun, competitive spirit for family beach games! There's something for the whole family with interactive activities including sandcastle building contests, tug of war, relay races, and more.
At 10 AM, the OC Life-Saving Station Museum is offering a free beach safety course by the famous Ocean City Beach Patrol for all ages.
Wednesday:
Did you enjoy the free movie night on the beach? Head to 118th Street beach for another classic movie and fun yard games.
Become a nautical knots expert with help from the U.S Coast Guard Auxiliary at the OC Life-Saving Museum every Wednesday morning!
Thursday:
Ready to redeem yourself from Tuesday? Stop by 27th Street beach for more family-friendly beach games!
See the sky light up with the town of Ocean City's newest drone light show experience! Who needs fireworks when you've got music and drones? Come on out at 9:30 pm on North Division Street Beach for a one-of-a-kind performance.
Any shark fans in your crew? Discover what types of sharks are found off Maryland's coast at the OC Life-Saving Museum's daily program.
Friday:
Come out to 27th Street beach for more family movies and games to enjoy. See the full summer movie schedule here!
The Land, Sky, and Sea daily free program at the OC Life-Saving Museum teaches all ages how the island was formed, what birds fly overhead, and what creatures inhabit our ocean and coastal bays.
What will you do first? Book your stay with Boardwalk Hotel Groups today to be just steps away from all of these free family fun events. Contact our vacation experts for more information about planning your beach getaway!