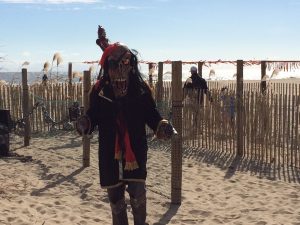 Finalizing your Halloween plans? Pack your bags and head into Ocean City for some good, safe, fun during the 9th Annual O.C.toberfest! We have your perfect getaway covered at the Boardwalk Hotel Group. Book your stay at the Howard Johnson Oceanfront Plaza Hotel and be in the heart of all of the action right on 12th St. and the Boardwalk.
 Ready for some spooktacular fun in OCMD? Check out our ultimate guide to O.C.toberfest in Ocean City, Maryland, and book your getaway today!
O.C.toberfest in Ocean City, MD
Enjoy some FREE family fun at the 9th Annual O.C.toberfest in OCMD, October 23-25th. Kick-off your celebrations on Friday night, October 23rd on the boardwalk near North Division St. for some Beach Fireworks at 7 pm. Be sure to get a good night's sleep after the show is over because there's plenty of fun to be had during this monsterrific weekend!
 Halloween Beach Maze
Check out the Halloween Beach Maze on October 24th and 25th! Children of all ages can participate and navigate through the giant beach maze on the sand. Watch out for wicked witches, spooky ghouls, and tricky pirates of the sand as you work your way to the end. This year, the Halloween Beach Maze will be completed 2020-style, with masks being required as you walk through the maze, and families admitted one group at a time to ensure proper social distancing.
 Howl-O-Ween Pet Parade
At the Boardwalk Hotel Group hotels, it's no secret that we love our furry friends. This is why we love the Howl-O-Ween Pet Parade, hosted at North Division St. on Saturday, October 24 at 1 pm by the Worcester County Humane Society! This event is free to enter with prizes and surprises throughout. Donations of pet supplies and monitory donations will be collected throughout the event to support the Humane Society, and facemasks will be required for participants and spectators.
Drive-in Disguise & Trunk or Treat
Do you love decorating and dressing up for Halloween? Now is your chance to showcase your skills during our Drive in Disguise Parade! Starting at 3 pm on October 24th, ride from 26th St. towards the Pier and show off your decorated vehicle! After the Drive in Disguise, Trunk or Treating will begin on the Boardwalk, South of Caroline St. and North of the Pier at 3:30 pm until the candy is gone!
 The Great Pumpkin Race
End your O.C.toberfest fun with a race to the finish line during the Great Pumpkin Race on Sunday, October 25th at 1 pm. This race will be held on the Boardwalk near North Division St. Participants will build their own pumpkin race car and compete in a side-by-side downhill race. Prizes will be awarded in each division and masks will be required for spectators and participants.
 Want to join in on the fun? Pre-registration is not required but greatly encouraged for the Howl-O-Ween Pet Parade and The Great Pumpkin Race. Click here to download your application, and email completed applications to infoevent@specialeventpro.com.
Save big on your beach vacation this October with our Fall Meal Deal– an offer so good that we've decided to extend the savings! Stay one, two, three, four, or even five nights from October 4 – November 19. Each extra night you stay the more you receive back in meal vouchers redeemable at various restaurants around town! The Fall Meal Deal package is valid weekdays only, Sunday-Thursday.
Booking your beach getaway early offers you greater security, saves you money, and makes the entire experience more enjoyable! To book your Halloween 2020 beach vacation today, call 800-926-1122. We can't wait to see you!